Introducing our newest Junxionites: Liz Vossen, MSc, Senior Consultant, and Nicaury Batista, PMP, Project Manager.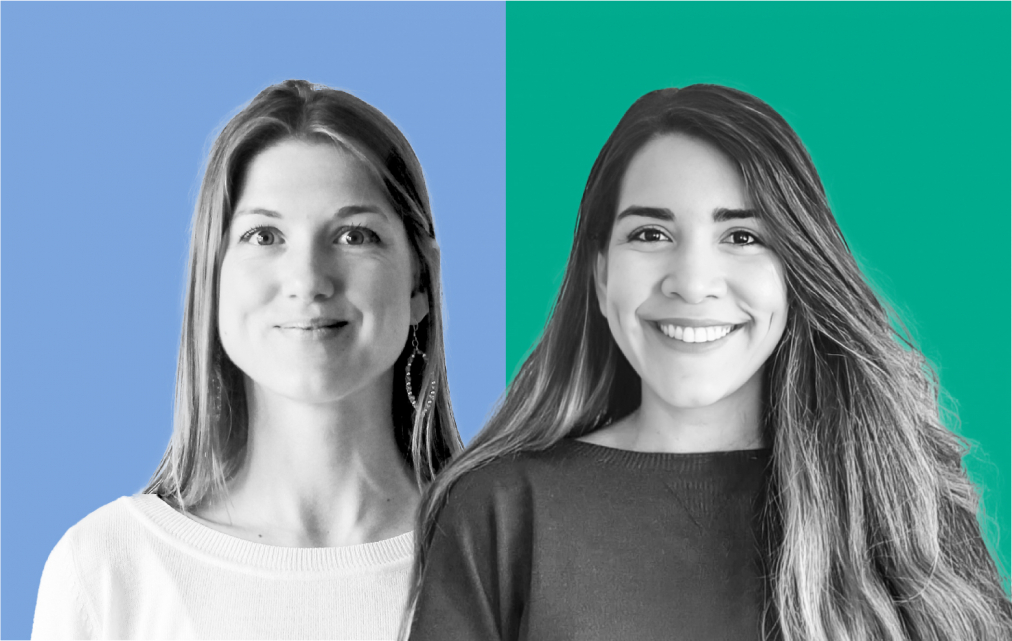 Liz's consulting career has spanned a decade and multiple industries including health, tech, energy, government, international development, social entrepreneurship, and more. She is particularly passionate about organizations ambitious to deliver an outsized positive impact.
Nicaury is a project management professional with extensive knowledge and experience in managing small and large-scale projects in both the corporate and non-profit sectors such as education, healthcare, technology, and settlement services.
What inspired you to join Junxion?
Liz: I'm interested in social innovation and how people, organizations, and companies can act differently to make a positive impact in the world. Junxion does this exactly with its company advising the leaders of tomorrow how they can become purpose-driven and build long-term success that's aligned with people and planetary well-being.
Nicaury: Junxion aligns with my values and desires to make my community a better place to live in. I studied Business Management because I believe that businesses can and must contribute to our society. It is possible to create businesses, institutions, and organizations that can help solve common problems, fostering human rights and protecting the environment. But with years I discovered that we cannot fully have a positive impact if we don't have a clear purpose. Everything starts with it and at Junxion I can help others to make a difference, to follow their purpose.
If you could solve one societal challenge overnight, which would it be?
Liz: Inequality. I think the power structures in the world maintain its inequality and I imagine we could have some brilliant alternative societal and economic structures if more people were part of designing and deciding the systems they participate in.
Nicaury: Environmental and climate issues, poverty, hunger, discrimination, injustice, lack of access to good health, irresponsible consumption, and production. All of these social challenges are important, but I believe that access to quality education is one of the most important components in addressing social problems. It is freedom and peace. Education forms the groundwork of any society and helps us to build opinions and develop different perspectives to looking at life. It gives people the tools and confidence to fight for their rights and to create policies that help our communities and the planet.
Which people have influenced your journey into impact?
Liz: Wow. Good question. My mom, for sure. She was a single mother of 5 kids, but every month, we still sent money to school kids who had much less than we did. Getting a salient, early education on income inequality and the different standards of living and human rights across the world was formative for me.
Nicaury: There are so many people that come to my mind! I will pick two and give the third spot to all the people that inspire me every day. My top two are my Mom and Dad. I think that most of my family would agree when I say that my parents have always been a couple of stubborn that are constantly helping others. Their compassion and resilience have been embedded into the person that I am today. (Ok, I must admit that little bit of stubbornness too).
What are you reading or listening to right now?
Liz: I'm listening to a lot of Mel Robbins, and a recent episode on Synchronicity really got my attention: The episode describes the phenomena (and science) of synchronicity the phenomenon in which people interpret two separate—and seemingly unrelated—experiences as being meaningfully intertwined, even though there is no evidence that one led to the other or that the two events are linked in any other causal way. This episode shares a bit about the science that backs up how looking for synchronicity in life can serve you well.
Nicaury: I'm listening to the book "Grow the Pie" by Alex Edmans, which explains how to embed purpose into practice, a reminder that purpose-driven businesses can serve society and contribute to human betterment without sacrificing profit. I'm also re-reading the book "No Ordinary Moments" by Dan Millman, a guide that shares different ways to turn our intentions into action, our challenges into strength, and our life experiences into wisdom.
What's one piece of advice you would offer to aspiring purpose leaders and change-makers?
Liz: Be audacious about your goals, if the world has taught us anything over the past few years, it's that the standards and norms can change almost overnight! Climate change has gone from having its existence being debated to everyday people feeling the impacts day in and day out. So we are going to need business leaders to demonstrate the kinds of social and environmental consciousness necessary for our continued well-being and survival!
Nicaury: The change starts from within just make sure to stop and appreciate the journey. Serving by example, inspiring and helping others, and sharing your knowledge doesn't mean anything if you don't take care of yourself first.
Would you like to stay updated with Junxion's news? Subscribe to our monthly newsletter.