November, 19, 2021 |
Mike Rowlands
|
Community
BC Buy Local Week, Nov 29-Dec 5 2021
The global COVID-19 pandemic continues to shine a spotlight on economic, organizational, and personal fragilities, and as we know, recovery is complicated and will take time. So what might each of us do to help our communities advance down the road to recovery? Start by looking at where you're spending.
Mike Rowlands
President & CEO at Junxion. Mike works extensively with independent social ventures, supporting their planning, impact, and leadership. Reach him via
[email protected]
.
Local Businesses Generate 4.6x the Impact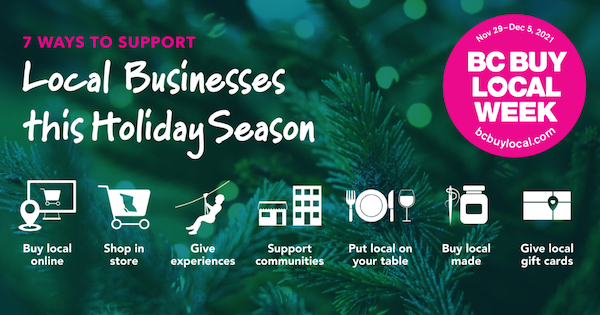 LOCO BC is this week promoting its annual Buy Local Week Nov 29-Dec 5 a campaign that celebrates the contributions businesses in British Columbia make to the economy and communities. While this is a successful regional campaign, its lessons are applicable everywhere: local business circulate 63% of revenues back into the local economy, as opposed to just 14% by multinationals—that's nearly five times the impact.
Independent businesses also buy local themselves, spending 31.4% of their revenue with other local suppliers. And they donate up to 24 times more per dollar of revenue to local charities than multinationals. In British Columbia, a Province with a population of about 5.1 million people, just a 10% shift in consumer spending toward independent business would generate over 14,000 jobs and keep a further $4.3 billion in the provincial economy.
Those are significant economic and social impacts. And again, these patterns are true in all local economies.
Further more, LOCO BC and Vancity recently teamed up to measure and analyse the economic and carbon impact of shopping local, focusing on common purchases and comparing with that of purchasing the imported equivalent. The research makes for some seriously interesting reading and stats, it certainly puts forward a compelling argument for buying local.
Here's Seven Ways to Buy Local this Holiday Season
In 2020, LOCO BC published the following list of seven ways you can think about buying local through the holiday season, and it's still as relevant 12 months on….
Buy local online: Support local businesses and families while shopping from the comfort of your own home. Only about one-third of spending today stays local; you can increase that.
Shop in stores: Make a point of masking hip and visiting your favourite stores as you do your holiday shopping. Remember, 63% of your money will stay in the local community.
Promote and share: Why not share your love for local—just as we are with this post! Influence others to think about the power of their spending.
Support your community: Mask up, put on a warm raincoat, and visit your favourite shopping districts. Sip a tea or coffee, and browse for gifts you can't find elsewhere.
Put local on your table: Choose local ingredients for your meals and when you're at restaurants. Some 65% of local restaurants' revenues stay in the local community—and lots flows straight into workers pockets.
Buy local made: Seek out the local artists, manufacturers and makers, and show them your support.
Buy local gift cards: Gift cards have been such a common and easy gift—and they're great. Take a moment to consider a local business.
A second Christmas with COVID-19 ever present can make the holiday season feel a bit daunting and disappointing. As we know all too well, recovery will take bold policy, brave business decisions, and big moves in the nonprofit community. Keep in mind that you can make a contribution, too. Every little bit will help.