A Guide to B Corp Certification
The growing B Corp movement is about companies that balance profit with purpose. We explore what it means to be a B Corp, why it's beneficial for business, and how certification works.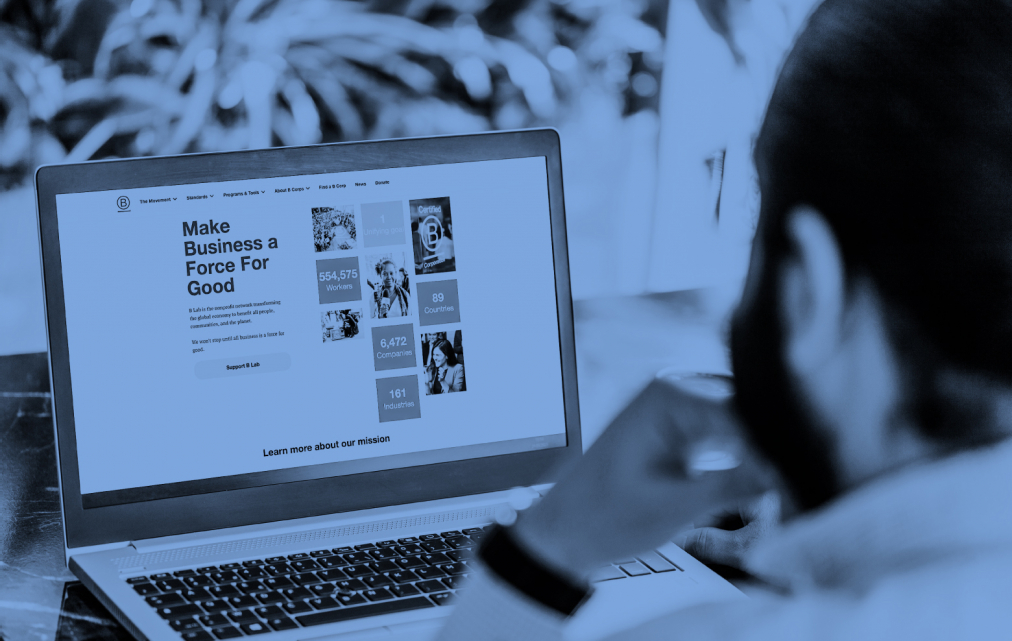 Adam Garfunkel
Adam is co-owner of Junxion and has been working in sustainability as a campaigner, communicator and consultant for over 30 years.
As social and environmental matters become an increasing part of the mainstream conversation, there's more pressure than ever before on businesses to show that they're giving back. A focus on profit simply won't cut it in a world that's rejecting traditional capitalist frameworks – companies need to be working for people and planet, too.
There's no shortage of accreditations out there designed to help position entities as doing the right thing, but none are as holistic and comprehensive as B Corp certification. Across 159 industries in 89 countries, there are more than 6,000 certified B Corp companies, and that number is growing all the time.
What Is a B Corp?
In a nutshell, a B Corp is a business that balances profit with purpose and is actively working to make the world a better place. Companies can call themselves a B Corp only once they've gone through a rigorous certification process. It's not easy to get certified, and that's what makes B Corps so important – they're doing the hard work.
What Are The Benefits of B Corp Certification?
B Corp status brings a host of benefits. Chiefly, your business has a credible, universally recognized way of demonstrating its commitment to tackling the world's most challenging problems. This is critical at a time when investors, clients and consumers are demanding higher sustainability standards from the companies they engage with. As the public and regulators become increasingly savvy to greenwashing, B Corp status is proof that you're making meaningful progress in sustainability and social impact.
Then there's the important impact B Corp certification has within a business. Going for B Corp status – and proudly displaying it once achieved – is a powerful way to engage employees in the company's mission and purpose, and will be increasingly important in attracting and retaining the best values-driven talent in the future.
And then there's being part of the vibrant and empowered B Corp community, where companies can participate in working groups to share best practice, collaborate with others to find solutions to specific challenges, and network with like-minded organisations to explore opportunities for growth and development.
B Corp status shows the world you're committed to tackling the tough challenges
Who Can Certify As a B Corp?
A business can certify as a B Corp if it operates for profit in a competitive market and has been operational for at least a year. Certification is open to all companies (including sole traders) meeting these criteria from any sector, although charities and non-profit organisations are not eligible. You don't need to be directly involved in products or services that could be classed as sustainable in their own right – it's also about the way a business is run, how it manages its environmental impact, treats its workers, and engages with its communities.
How Much Does It Cost to Become a B Corp?
The B Corp pricing structure is slightly different depending on where your company is located. In the UK, there is a one-off submission fee of £250, designed to ensure the company's commitment to the full verification process, and then an annual certification fee based on their sales. This ranges from £1,000 per year for companies with sales of up to £149,999 and up to £50,000 per year for those with sales between £750 million-£1 billion.
In Europe, companies pay a submission fee aligned with their annual sales. For sales up to €4,999,999, for example, the submission fee is €250. This rises to €900 for sales over €100 million. Then an annual pricing structure is applicable, costing €2,000 per year for companies with sales up to €249,999, and €2,500 for companies with sales beyond €2.5 million.
Companies in the US and Canada, meanwhile, just pay annual fees, again based on their annual sales. This ranges from $2,000 per year up to $4.9 million, to $50,000 per year between $750 million to $1 billion.
Are There Any Discounts Available?
UK-based entrepreneurs facing systemic barriers to business ownership can receive a 40% discount on certification fees. You can apply for the discount within the B Impact Assessment when you submit for verification. If you meet the eligibility requirements, the equity discount will be added to your invoice for the first certification term
What Are The Stages of the B Corp Certification Process?
There are four key stages of the certification process.
1) Complete and submit the free online B Impact Assessment (BIA)
This questionnaire is made up of around 200 questions tailored to your company's size, sector and location, and is designed to measure your positive impact on workers, suppliers, community, and the environment.
2) Improve your BIA score
B Corp certification requires a BIA score of 80+ points, but don't worry, it's very rare for companies to achieve this the first time around. Companies will usually spend some time boosting their score with help from tools built into the BIA, including improvement reports, goal-setting functions, and a comprehensive knowledge base with best practice guides.
3) Meeting the legal requirement
Because of legal precedents and cultural expectations, businesses are often expected and required to make decisions exclusively through the lens of profit maximization for the benefit of owners and shareholders – a concept known as shareholder primacy. Certified B Corps are legally required to consider the impact of their decisions on all of their stakeholders – a model known as stakeholder governance (or 'stakeholder capitalism'). Businesses are therefore required to adopt specific wording into their Articles of Association, reflecting a commitment to stakeholder governance, and to have a positive impact on society and the environment.
4) Evaluation and verification
Once you've achieved a BIA score of 80+ and you've met the legal requirement, your assessment is ready to be reviewed. During this stage, your company will go through background checks and a standards analyst will ask for evidence that supports claims made in your assessment. After you've met all of these requirements, your company will be a certified B Corp!
How Long Does It Take to Become a B Corp?
B Corp certification is highly valued because it's a rigorous and substantial process, so you can expect it to take a lot of time and effort. Plus, there are a high number of companies seeking certification so you won't be at the front of the queue. The first stage – completing the BIA – will depend on the size of your business and how prepared you are to answer its questions, so this could take anywhere from a day to several months.
With the current standards, you need a score of 80+ points to gain certification, so if you don't achieve that the first time around (and many don't), you'll need to spend time working to improve this score. How long that will take depends on the complexity of the issues you need to address. You can then expect to wait up to six months in the queue for the evaluation and verification process, which itself can take up to six months, depending on B Labs' capacity.
In short, it's not a quick process, and you should expect certification to take at least a year, if not longer. However, it's the robust nature of this accreditation that sets B Corps apart from the rest!
B Corp certification is highly valued because it's a rigorous and substantial process
Can a Company Take The B Impact Assessment Without Applying For Official Certification?
Yes, absolutely. Many companies use the free assessment as a tool to measure their sustainability activities and for guidance on ways they can improve their impact on society and the environment. Even if you don't want to go through the whole certification process, completing a BIA is a great way to measure and address your sustainability.
How Is B Corp Status Maintained?
B Corps need to recertify every three years to demonstrate their continued commitment to its principles. This can be a labour-intensive process, so it's important that companies build this into their long-term strategy and operations.
When Are The New Standards Coming Into Effect?
The new standards are launching in a phased approach at the beginning of 2024.
What Will The New Standards Consist Of?
The new standards will make certifying as a B Corp harder. This is down to the fact that the current standards are flexible i.e. you don't need to meet a minimum score across all sections, whereas the new standards will build non-negotiable requirements across ten areas such as climate and wages. They also incorporate new concepts like purpose and collective action into the assessment.
What Support is Available For Companies Looking To Certify?
Going for B Corp certification might seem like a daunting process, but there's plenty of help and advice out there to help you on your journey. The B Lab website is a great place to start, as is the BIA Knowledge Base. Or you can reach out to a consultancy like Junxion, where trained B Leaders can help you navigate the framework, ensuring you certify and provide advice on how to embed B Corp thinking into your sustainability and business strategy.