An Open Letter to Larry Fink
Junxion's Principals offer an open response to Mr Fink's recent 2022 letter to CEOs on "The Power of Capitalism."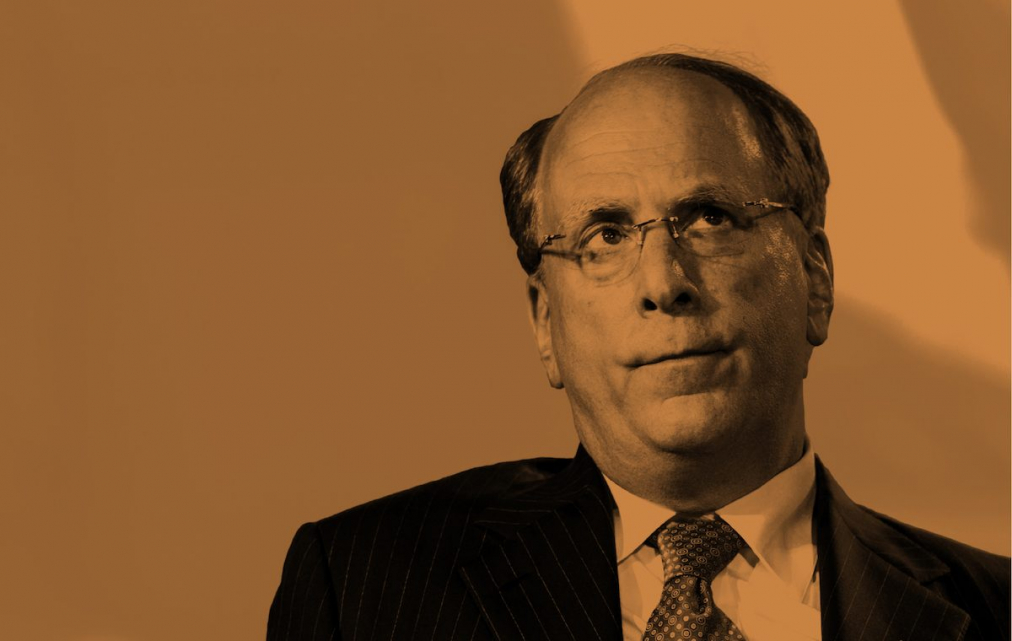 Mike Rowlands
President and CEO of Junxion, Mike has spent more than 20 years working to catalyse social responsibility and sustainability.
Dear Mr. Fink:
Thank you for your recent correspondence. As a globally recognized thought leader, and as the CEO of the world's largest wealth management firm, you are of course in a significant position of influence. Media coverage of your letters ensures they are read by the business leaders to which they're directly addressed, as well as by entrepreneurs, consultants and advisors, business students, and the concerned public.
We of course agree that "In today's globally interconnected world, a company must create value for and be valued by its full range of stakeholders." Indeed, Junxion Strategy is dedicated to helping leaders build the success stories of a stakeholder-centric paradigm of business—a 'next economy,' as we like to think of it.
However, we take a broader view than yours on the ultimate aim of this stakeholder view of value creation: We disagree that it is only "in order to deliver long-term value for its shareholders." Stakeholders include customers, employees, suppliers and resellers, investors, and the communities in which companies operate. You acknowledge in your letter this year the importance of our global biosphere as an essential stakeholder in our companies' operations. We commend your commitment to the net zero movement.
Trapped in an expiring paradigm
Yet you clearly convey in your letter that stakeholder engagement is a means to an end, and that the end, as you see it, is a free market with shareholders as the ultimate beneficiaries. Certainly, your advocacy for purpose-based business marks a shift in thinking about the role of business in society. But Shared Value is just the first step toward a new, stakeholder-centric framing of business. Until business recognizes System Value, it will remain locked in an outdated world view—and create as many problems as it solves.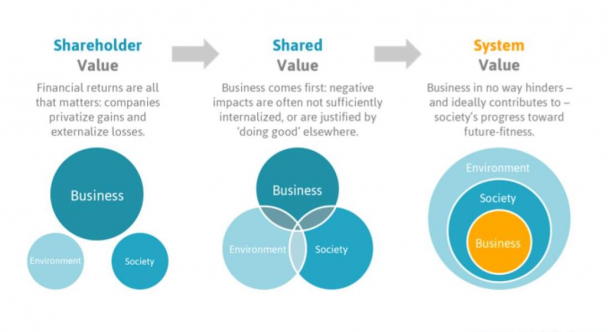 In short, we fear you're trapped in an expiring paradigm….
On a closer read of your letter, we found a number of assumptions, assertions, and positions that we would invite you to reconsider—with a view to bolstering the long-term, stakeholder-centricity of your firm and to embracing the imperatives of the next economic paradigm.
First, you suggest that "Political activists, or the media, may politicize things your company does." You suggest such outside actors—read: stakeholders—may "hijack [CEOs'] brand[s] to advance their own agendas." We're concerned with the adversarial implication here, in the context of a stakeholder-centric company and economy.
You name that COVID-19 has "exacerbated polarization in many Western societies." We suggest that CEOs have a fundamental role to play in redressing that polarization.
Open engagement with activists, advocates, and members of the media is precisely how corporate leaders can (re)build trust with stakeholders both outside and inside their organizations.
It is an opportunity to be seized, not a risk to be managed. Transparency and responsiveness has time and again proven to generate value—in both the short and long terms.
Stakeholder engagement presents profound opportunities for leading companies.
Second, you note that "The quit rate in the US and the UK is at historic highs." Indeed, the 'Great Resignation' has commanded many column inches during the past year. And as you say, "Workers seizing new opportunities is a good thing: It demonstrates their confidence in a growing economy."
On the other hand, in a recent survey, American consultancy Mercer found that the percentage of respondents who were giving serious consideration to resigning was about similar to pre-pandemic norms. The exception? "It is the low-wage, frontline, minority and lower-level employees who are more likely to want to leave." While opportunities for higher wages certainly influence their decisions, the compounding stressors of the pandemic are really driving change.
The 'Great Reckoning': Work isn't working
As Mercer pointed out, "the 'Great Resignation' is more of a 'Great Reckoning.'" Work isn't working. Persistent "concerns about basic financial wellness, like being able to pay bills or get rid of debt" have collided with new, pandemic-driven stressors. Other experts cite the lack of adequate childcare and health concerns about COVID as the leading reasons for resignation. If employers are unable to support childcare or uphold safe workplaces, what does this say about their business models?
Wealth distribution is a dramatic, alarming, and growing problem.
That's up from 1% in 1995. Privilege, indeed. Compare this to the other extreme: "The poorest half of the planet's population owns about 2% of its riches." Wealth distribution is a dramatic, alarming, and growing problem.
As wealth concentrates—as the rich get unfathomably richer—opportunities for working class and middle class entrepreneurs erode. The Kauffman Foundation names the problem clearly: "Entrepreneurs face geographic, demographic, and wealth barriers, exacerbated by a capital market structure that does not effectively find and support the majority of entrepreneurs." Less than 17% of entrepreneurs access bank loans or venture capital at startup. Nearly two-thirds rely on their own or their families' savings. And of course, the ability to save at all is itself a privilege.
No, your right / privilege dichotomy about financial capital is hopelessly flawed. The very systems of capital you defend have made entrepreneurship "the ultimate white privilege," and exacerbated societal polarization and marginalization.
Finally, no conversation about economics is worth having today if it doesn't also speak to the climate emergency. "Every company and every industry will be transformed by the transition to a net zero world." You said that. We agree! And we deeply hope that such transformation will come in time.
We must be crystal clear on what 'net zero' means and what it doesn't mean for some of your most toxic holdings. Your firm, BlackRock, owns 6.7% of oil giant ExxonMobil, whose recent announcement of a commitment to net zero conveniently (for them) ignores the phenomenal, negative climate impacts of their scope three emissions. While we appreciate your firm's active support for Engine No. 1's slate of directors, it's simply not enough.
ExxonMobil affects every stakeholder on Earth. In the context of the climate emergency, incremental improvement is not enough.
In a climate emergency, incremental improvement is not enough.
If you're truly an advocate for stakeholder-centricity, if you're fully committed to ensuring all the companies in which you invest hold a positive social purpose, then now is surely the time to divest—at the very least for the sake of your own credibility.
Mr. Fink, your annual letters have done us all a great service, putting good governance, social purpose, and now stakeholder-centricity on the lead pages of the world's business papers.
Leadership now cannot rest on the laurels of platitudes and theoreticals. Now is the time to act.
Companies and their CEOs must work to repair our societal polarization. Employers must repair business models that leave their people at risk. Elected officials must correct tax policy to restore the middle class. Capital markets must be reformed to ensure equitable access to startup and growth funding. And Earth must be included as a stakeholder in your investment theses. As economist Herman E. Daly said: "The economy is a wholly-owned subsidiary of the environment, not the reverse."
You're in a powerful—yes, a privileged—position to advocate and press for change.
In a time that requires bold moves….
Let's Be Audacious, Together…
Sincerely,

Mike Rowlands | Adam Garfunkel
President & CEO | Co-Owner & Managing Director
Ready to start making positive impact?
Benefit from our many years of experience. No task is too big or too complex for our team.